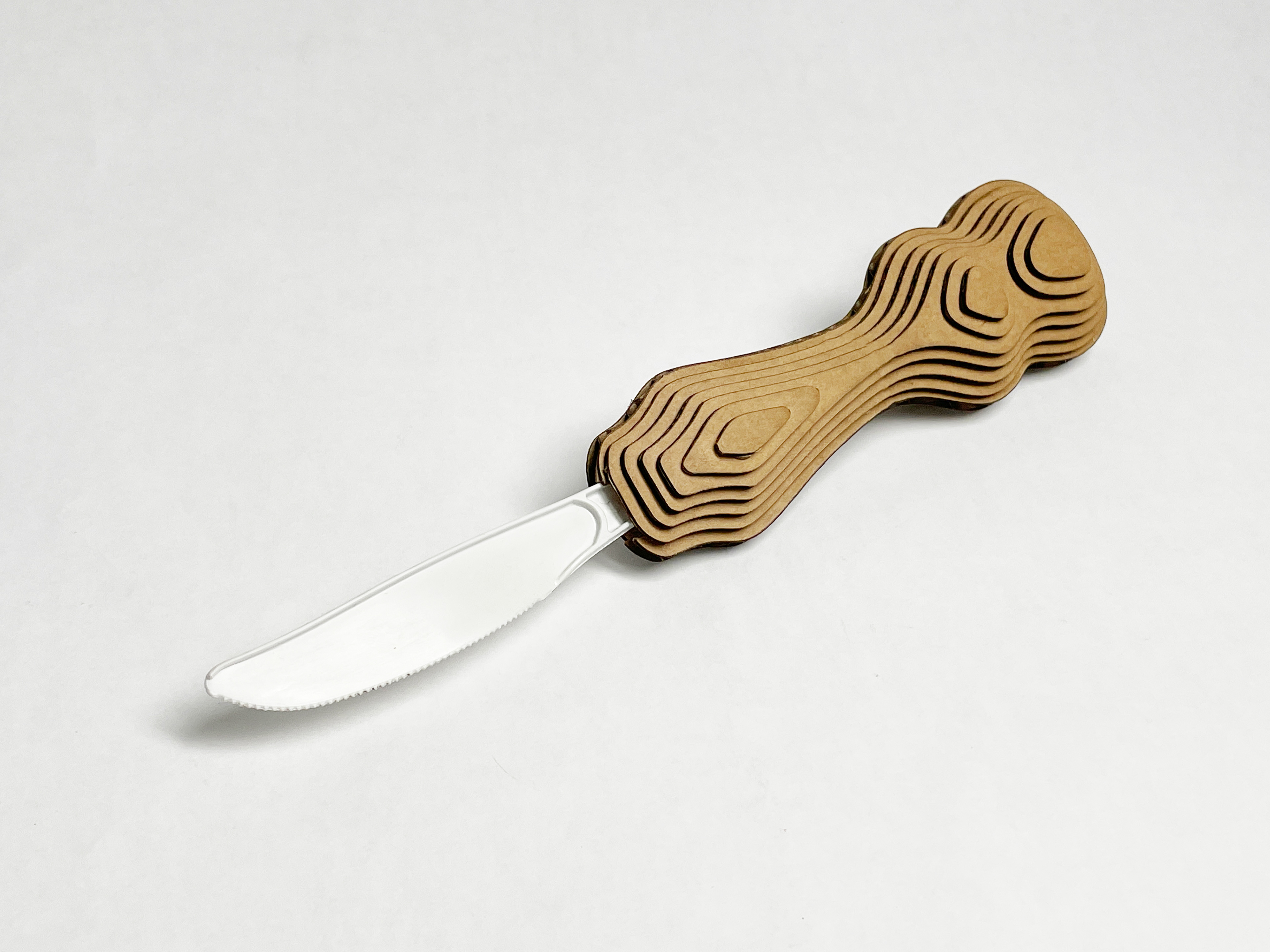 The prompt was to solve an ergonomics-related problem with a product
NICE! is a reusable ergonomic utensil used alongside plastic eating utensils. Based on user interviews, I learned that elders have a hard time using plastic utensils as they have little grip and resting areas for the fingers, and they bend easily, making the eating experience unpleasant. Some elders frequently visit fast-foods, restaurants, and dining places where they frequently give out plastic utensils. This product fits flush to any plastic utensil, and can make your life easier and your eating experience joyful with its great feel.

(1) I conducted a user interview with an elder seeking to learn more about:
a) What experiences relating to ergonomics they could take me through that were unpleasant/annoying.
b) Why such things happened.
c) Which products caused this unpleasant experience.
d) Which possible alternatives might help.

(2) User Interview Ergonomic Problem:

Plastic utensils are hard to grip and bend easily, making the eating experience unpleasant for elders with limited hand mobility. Their rectangular shape makes it difficult to hold without having them slip or fall, making the user have to stand up and look for them. The grip is not ergonomic for elders.

(3) I sketched possible solutions exploring grip/comfort based on feedback from the interview.

(4) I made initial cardboard sketch models to test the feel of the structure based on different shapes.

(5) User testing and iteration based on ergonomic feel, comfort, and grip.

(6) Further refinement and selection of final shape outlines to then build form for ergonomic grip/comfort.

(7) Cutting and assembling a rough low-fidelity prototype of the newly selected shape/form, allowing areas for finger rest and taking into consideration shape of hands/fingers for maximum comfort/grip.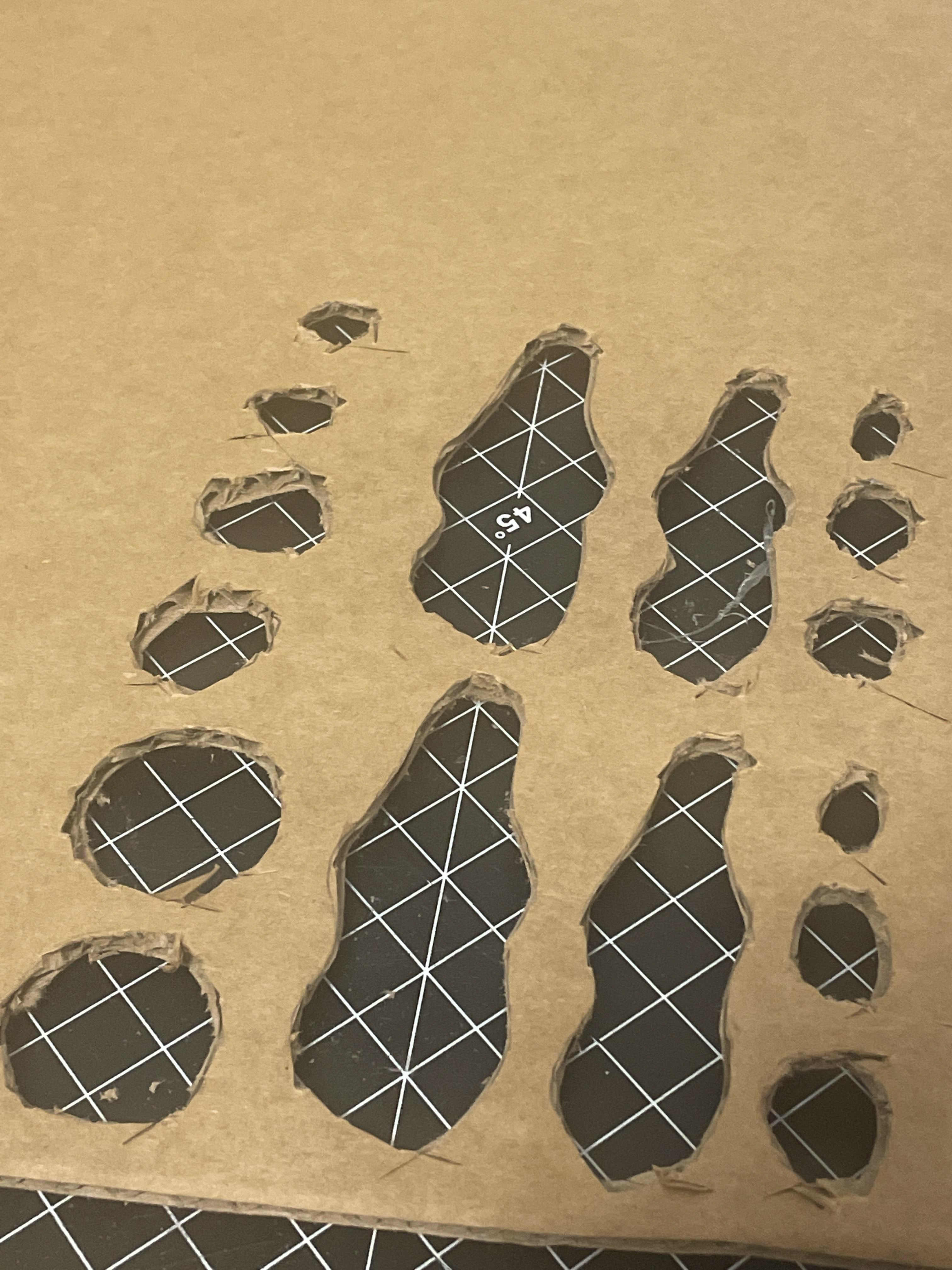 (8) Progression of different experimentations. Each was an iteration based on user input/feedback for the most pleasing experience. The thicker model was more successful because it allowed more areas for the finger to rest.

(9) Construction drawings with precise measurements of final design based on user testing feedback.

(10) Making the model in foam based on construction drawings and using a knife and profile sketches to cut out the shape.

(11) Iterated, carved, and sanded the foam model, yet I found that foam was not the correct material for this organic form, as it to broke up and was weak.

(12) Switched gears and decided to make a clay model with a tube in the center that would serve as a slot for utensils. Began by cutting the utensils and gluing them to plastic whose diameter would fit in the tube.

(13) I added ⅛ welding wire to the central tube for structural support to the clay.

(14) Modeling in clay and testing fit.

(16) Designing in Rhino 7 based on construction drawings and using the shape of the utensil to create the shape.

(17) Initial Design Preview.

(18) Using Illustrator to get the file ready for laser cutting.

(20) Assembling parts by gluing smaller parts together first before the bigger parts. Order of operations is important for a flush fit.

(21) Final Touch: Making the structure curved and removing right angles for the handheld object to be comfortable to hold at any angle. This allows elders to grip the shape at any point that feels comfortable for them.  There were some parts that were harder to curve, and I was able to curve all the key areas.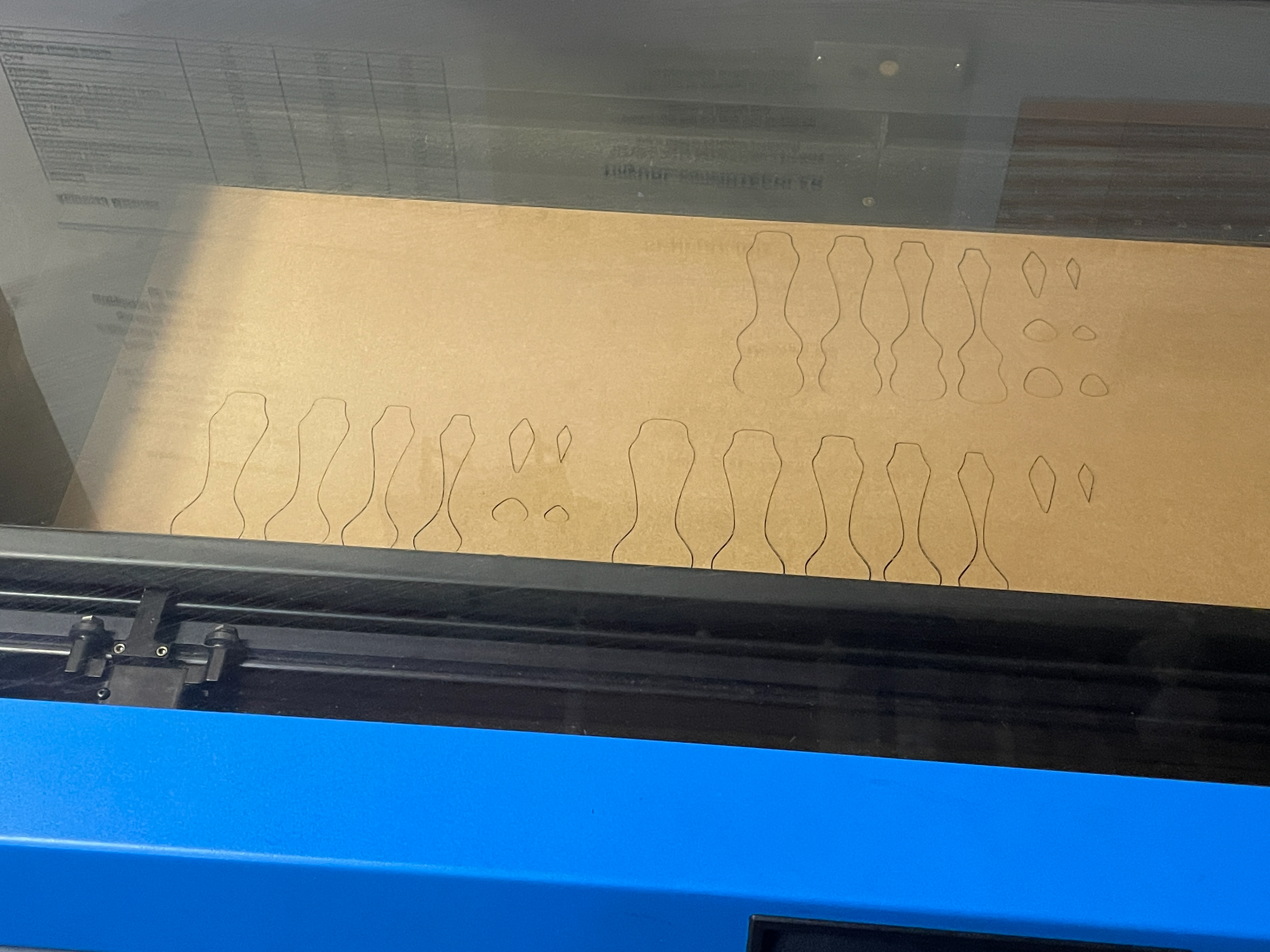 Features:
Locking mechanism leverages structure of cardboard by a negative tolerance.
Resting areas for fingers in key positions.
More areas for grip and a comfortable handheld experience.
Tested, user-centered design.
Pleasing aesthetic layering
Reusable
Slots into existing plastic utensils

Lessons:
- Leveraging the properties of your product's material is crucial to building successful solutions
- Ergonomic solutions can be quickly tested with low-fidelity prototypes and even basic shape outlines
- Design for people with special needs may require certain features to be intensified for greater accessibility
- Do not force materials to particular designs for the sake of building them; find the correct material for your design.
- Be empathetic and try to understand your user's experience to find possible areas of growth for your design
- Everyone has had experiences with annoying, unpleasant products and these can all be designed to be satisfying and successful.